Zaman sekarang ini bergulir dalam hitungan detik (thanks to social media!) seakan mampu membuka kesempatan lebih luas bagi setiap manusia untuk berkarya, tanpa perlu lagi melihat status, latar belakang, pendidikan, ataupun jenis kelamin. Mungkin bagi Anda dan juga saya yang tergolong dalam generasi millennials, hal tersebut tidak terlalu terlihat signifikan. Tapi bagi generasi sebelumnya, hal ini tentu merupakan sebuah revolusi besar.
Meski demikian, hingga saat ini pekerjaan bartender atau mixologist di dunia, khususnya di Indonesia, masih banyak didominasi oleh kaum pria, tapi tak sedikit pula perempuan-perempuan yang dengan kehebatannya dalam meracik minuman berhasil meraih berbagai penghargaan bergengsi.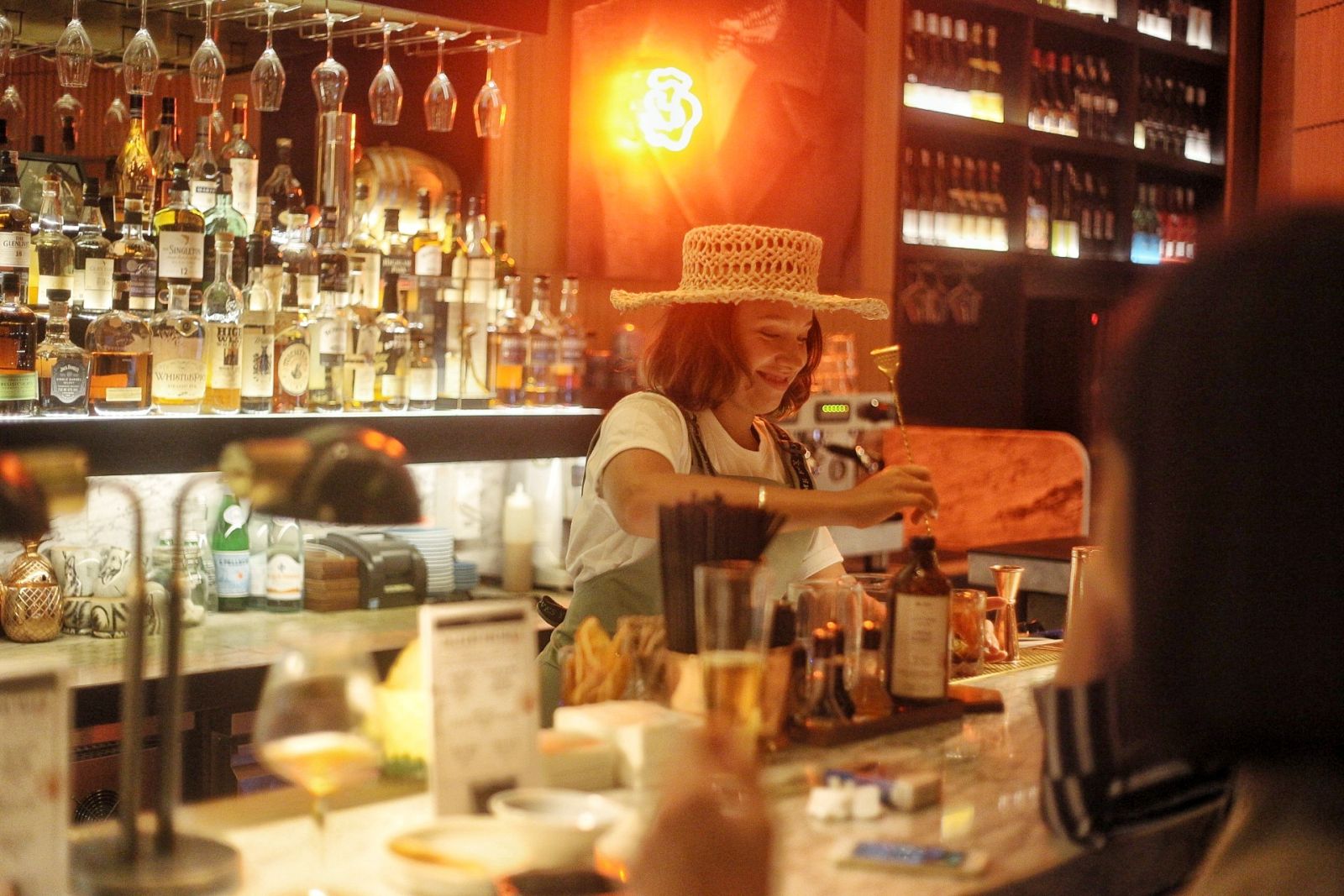 Salah satunya adalah mixologist asal Rusia bernama Lizaveta Maliauka. Diundang oleh Mr. Fox ke Jakarta untuk menjadi guest mixologist pada acara TALES OF FOX yang ke-4, Liza pada sebuah malam di bulan April lalu mempersembahkan lima racikan minuman beralkohol, yaitu Poolside Tonic, Who Want The Smoke, Kiss My Lips, Tamarind Negroni, dan Fields of Gold. Malam penuh keceriaan tersebut semakin dimeriahkan dengan penampilan live music dari band ELMAND dan juga DJ T-Sha.
Kami pun tak ingin melewatkan kesempatan ini untuk bercengkrama bersama Lizaveta. Rekan saya Meta Limesa (klik untuk membaca artikel-artikel menarik dari Meta Limesa), mewakili saya untuk berbincang dengan perempuan yang telah meraih predikat 'Top 3 Gloval Bacardi Legacy Competition 2016' dan 'The National Winner fot Bacardi Legacy dua tahun berturut-turut di 2015 - 2016 tersebut.
Hai, Lizaveta! Good evening, how are you?
Fantastic!
When did you arrive in Jakarta?
I arrived three days ago in Jakarta. But I have been in Bali for almost two months, I am travelling around Asia at the moment, I visited Thailand and then Bali, I am going to Singapore after Jakarta, then The Philippines, Hong Kong, Shanghai, maybe Taiwan and Vietnam.
This can't be your first time in Jakarta, or is it?
Yes, this is my first time in Jakarta. It's a massive city. I had a chance to hang out in this area, went to some bars and restaurants. I have three more days to explore the city and I would like to visit some museums, old town, and the flea market.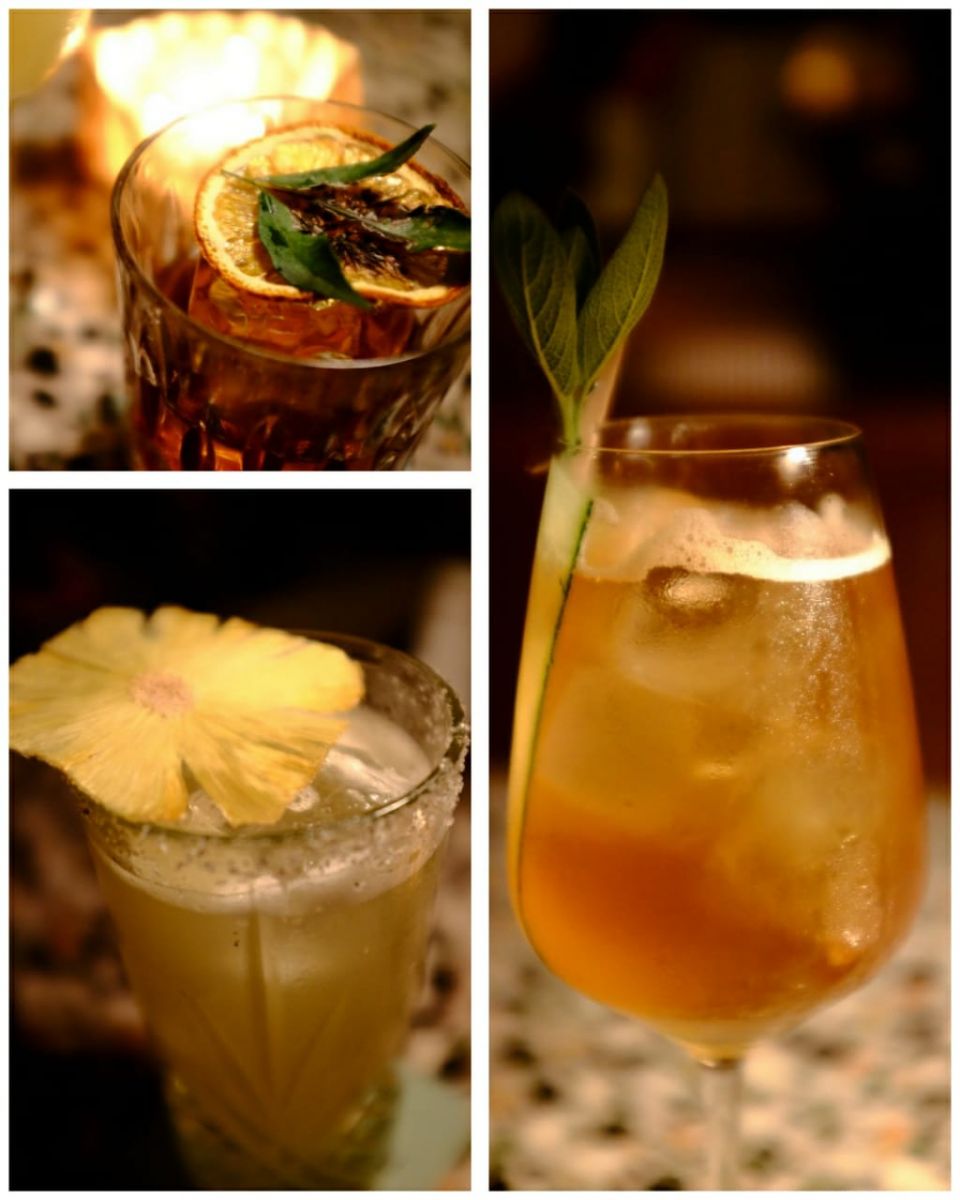 What do you think about the nightlife of Jakarta?
Well, to be honest, I like countries that have amazing food culture, amazing history, amazing hospitality, but still don't have that many establishment in restaurant or bar worlds. I think that what makes the people make great projects. I think they always look up to New York, London, Singapore, Hong Kong, you know, all these cities that are already enriched with restaurants, and it gives them lots of energy and lots of inspiration. I came from Minsk, which is the capital city of a small country, Belarus. It's kinda very similar situation, where the people are really eager to learn and try to make everything special, they treat every guest like they are very important people, and are always happy to see them, they make everything very personal and unique. And that's what I like about cities like Jakarta.
Have you tried any restaurant or bar in Jakarta?
We went to AA, it's a new cocktail bars from Ismaya group, really nice!
And have you tried any local foods?
Yes! What's the name... Nasi goreng?
Oh my God, it's like everybody's favorite!
Ya, I mean, I spent almost two months in Bali. I also tried Balinese foods. It's super simple but with lots of vegetables. I am planning on going to some local restaurants to try any traditional cuisine.
Your job as mixologist is very much associated with male job, especially here in Indonesia. Considering that women empowerment and equality are the hot topic lately, how do you see this phenomenon?
For the past four to five years, it has been changing step by step, I think it's a breakage point when women [show that they -red] are very powerful, not only at the bar, but in general. Women have been treated more equally. [As a mixologist -red] I never have any concerns like, "Oh, maybe this is not a women thing" or anything. I always work with the guys and they never make me feel like [I am now a man -red]. I am always been treated based on my knowledge, my hospitality, how much I care about people, and what I can bring to the table for my team and the bar that I work at. So fortunately for me, I never face any [discrimination -red]. But I really see that girls are now feel more empowered to actually become bartender or head bartender or chef.
What does women empowerement and equality mean to you?
I think it's a space where you can find yourself to be really truthful for who you are, what you are, to be treated fairly by what you do, so you don't need to pretend. you don't need to try to make impression on anyone, don't try to copy anyone or to be like someone else. I do feel like I'm a quite independent person and I do have a bright shiny personality and sometimes I do put my personality a bit behind but I don't think that it's ever a good idea.
You can always get what you want and be where you want to be, just be truthul with yourself. And this is what I feel like everyone should do because the time when you confirm who you are, what you want, and your passion, that would be the moment when the door that you've been searching for is open.
As a female mixologist, do you face any dificulties in doing your job or your career?
It depends on how you look at things. I never look at anything that's happening to me as a failure, it's just a lesson or opportunity to learn something new. I always see things positively. Making cocktails is not a bad thing. It's perfect, it's fantastic.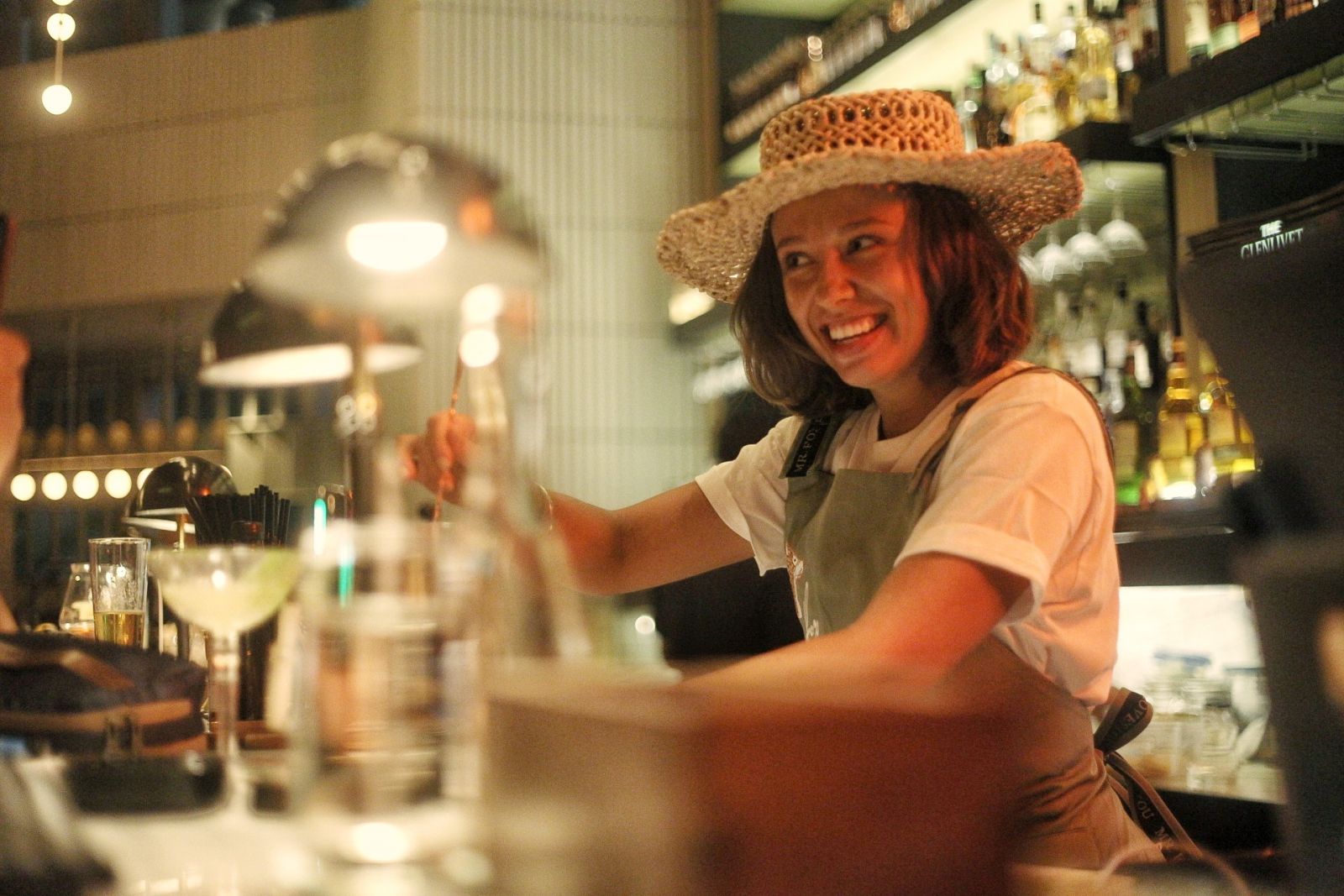 How did you find your passion in mixologist?
I would say that the most important part in all of this process is actually because I want to work in hospitality industry. I dont know if you could consider this as hospitality job, but I would say so. But I was 15 years old and I always wanted to travel around the world, so that was something that really inspired and pushed me to get my first job during the summer, so I could travel with my friends from school. I just had to make money to do that. And I started working as a pizza seller, it was a quite easy and quick money, you didn't really have to have that much knowledge about food or service. But you can communicate with people, you can be just be fun and nice and they can buy pizza from you for who you are. That made me realize that I want to work with people and I want to work in the restaurant. Then I graduated from school, I started to work at the cocktail bar in Minsk, that's when I actaually fell in love with cocktails because the guy that I was working with was professional. I kept asking him how to shake and stir, I was basically just playing with water. Hahaha... I was really amazed by how people would look at the bartender, and it was never just a cocktail bar where people came, buy with money, and then go. The focus on being bartender is more on your education, inspiration, communication with your guests and you can talk about everything, about books, movies, musics. You have to be really intellegent if you want to be a great bartender because you need to be there for them, no matter what they wanna talk about. So, I think it is a great job because I can learn, I want to meet interesting people from different industries, I can grow with anyone I meet at the bar, they can teach me something.
You are a two-time winner of the national stage Bacardi Legacy Global Cocktail Competition and also the Top 3 World's Best Bartender 2016. That's amazing. Could you share how you got those achievements? Do they somehow become a pressure for you, I mean,Top 3 World's Best Bartender!
I am a winner for Belarus national Bacardi Legacy competition, in general bacardy cocktail competition is a one of the best and strng competition for bartender.
Do the achievements you got somehow become a pressure to you?
I do appriciate the world and the universe and the people who have helped me along the way but I dont try to take it too seriously. I feel like its great to reach this limit, but I don't want to stop on one thing. The indutry is growing and more people are doing exciting things, so if you are the winner today, doesn't mean that you are the winner tomorrow. You need to become better and learn more things and try different things. When you win one competition, doesn't mean that you will win the same competition the next year. So keep learning and don't stop.
Can you tell us about your winning cocktails?
The name of the drink is "Anything Else" cocktail. It's rum, campari, lemon juice, and beer. It's very refreshing, very fuity, citrucy, you can drink like 10 of them. Hahaha... When I was working on this cocktail, it was the time when the combination of beer and cocktail emerged, so it was like very unique experience, because people would be like, "What cocktail with beer?". It sounds interesting. But it was a cocktail competition, you don't limit yourself. After that, I moved to New York and I worked at so many bars, I created couple more drinks that I am really proud of and it was an amazing opportunity because in New York, there are so many bars, so many spirits, so many liquors, so my bartending skill is actually blooming because I had a wide range of spirits and my drinks became more complex, interesting, and more unique. It's great how you grow with the time and how your pallette is developing.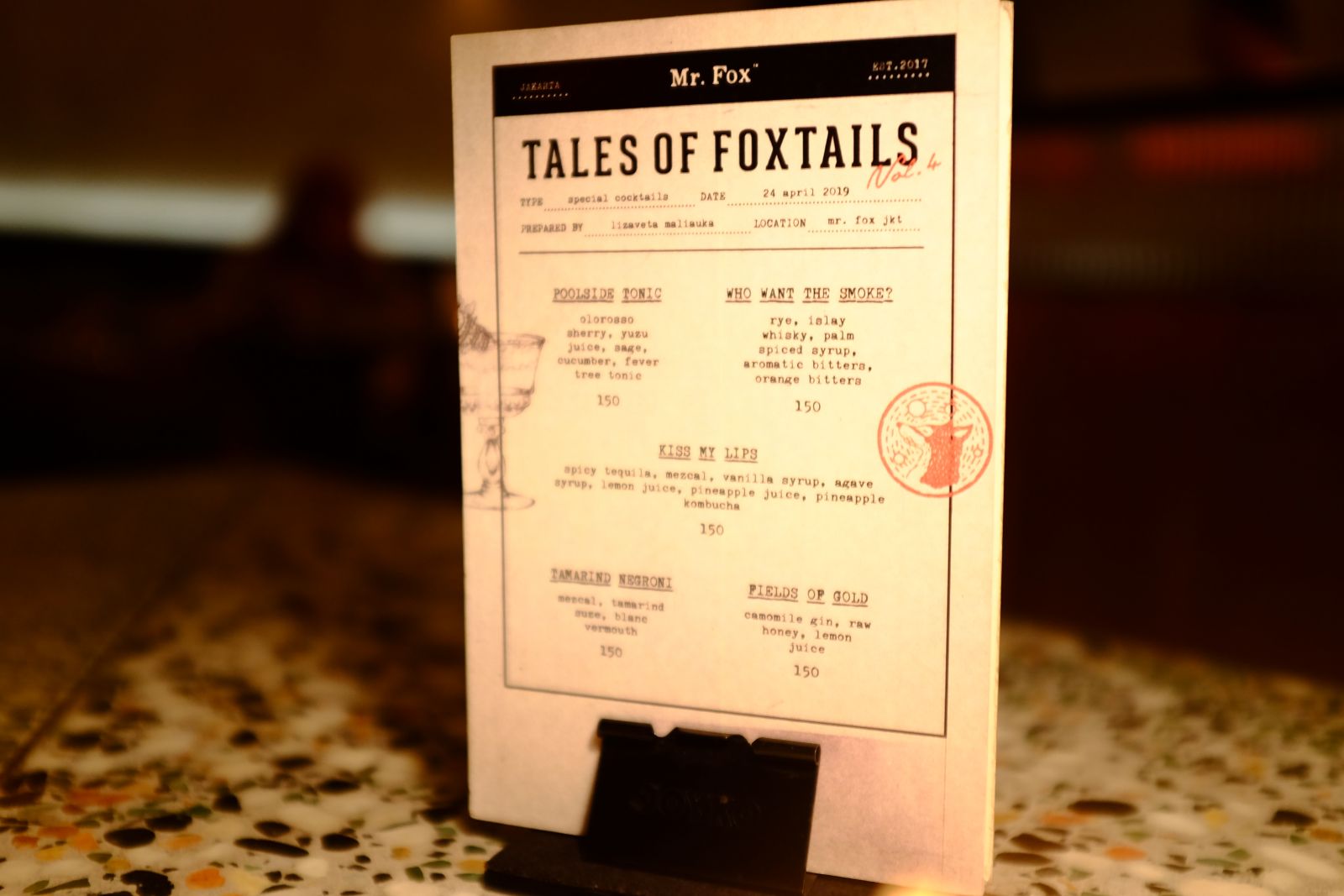 What do you think about Mr. Fox itself and what made you agree to collaborate with Mr. Fox?
You want to be unique and flexible and creative and have this feeling of freedom to people who work with you and I feel like Ismaya Group is a perfect example, I went to their beach club in Bali [Manarai Beach Club -red], and it was fantastic, the staff was great, the service was great, everyone was so very welcoming and kind, everyone knows and is excited with what they're doing and that's the most important part. Hospitality is not something that you can learn, either you have it or not, it's something that you have to be born with. I really enjoy workign with everyone in the team because they know why they are here and they chose to be here. Everyone is happy to be a part of the team.
Do you still remember the first drink you've ever prepared or made?
Hahaha... I am going to tell you the one that I didn't made at the bar, but the one that I made when I was young, even when I wasn't even allowed to drink. Hahahaha... Well, in Belarus you are allowed to drink at the age of 18, but of course when you go this party in highschool, you sneaked in and ask your older brother or sister to buy you something to drink. When I was 15, everyone was drinking Tequila Boom, so it's a combination of sprite and tequila, and you need to shake it, hit the glass on the table, and then drink it as fast as possible. So it's not about mixology thing, it's more about gettiing drunk. And I was inspired by this, when I got back home, we did the same combination, we used vodka and tonic with tangerine flavor, same idea, shake it, hit it on the table, and drink it. I named the drink "Youth".
What's next for you?
I don't know what will be the end of this tour, I kinda open for meeting new people, see other bar scenes, other countries, I'm most likely going back to New York and work on my highball project, I love photography. Photography also inspired me to make cocktails and also to make them look nice. I wanna make a menu based on the visual aspect, in a very minimalistic and geometrical way. And I'm gonna make a magazine lookbook from my travelling to South Africa.